North Branch Works is excited to announce a new partnership with the Illinois Manufacturing Excellence Center (IMEC) starting July 1, 2023. This program will provide resources that help manufacturers in our service area grow and expand.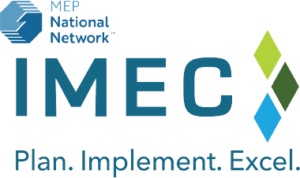 A statewide organization, IMEC advocates for and helps manufacturers find tools, grants, educational opportunities, and other resources that support business growth.
With more than 50 full-time staff and partners, IMEC has the expertise to not only plan and strategize, but to implement and evaluate the effectiveness of client improvements.
In fact, IMEC has demonstrated a return on investment that exceeds 19:1. This growth becomes possible as organizations become more effective and efficient – and together with IMEC – excel toward enterprise excellence.
Manufacturers can take advantage of this initiative at no cost through 1-on-1 meetings with NBW & IMEC staff. These meetings can be customized to your needs. Topics could include leadership, strategy, customer engagement, operations, workforce, and measurement and results.
Over the next six months, NBW will reach out to manufacturers in our service area with more information about this new pilot program.
We also plan to hold an event or workshop to benefit manufacturers in the North Branch. Stay tuned to our blog and social media for more information as it comes together.
If you'd like to sign up for a 1-on-1 meeting or have ideas about an event or workshop, please contact Steve Simmons at North Branch Works at 773-929-5552 x2226 or steve@northbranchworks.org.
Image credit: Illinois Manufacturing Excellence Center